70 to 80% of consumers research a business online before making a purchase. If your website is complicated and messy, however, you could end up scaring those potential customers off. A few easy improvements to your layouts can help you increase conversions and boost business.
Ready to discover elegant website design that will help your business stand out from the crowd?
Keep reading to discover the seven best website layout tips you need for success. With these website design basics, you can design your site with attention to detail in mind.
1. Add White Space
The easiest way to improve your layout is to add white space and website elements that stand out.
White space gives your content and other features room to breathe. Instead of clustering photos and blocks of text together, spread it out. White space will make it easier for visitors to focus on your site's message and enjoy your company's presence.
Minimize any content or imagery that is less important as much as possible. Instead of stuffing your site full of text, prioritize. What message are you trying to convey? Think about what goals you want your audience to take. If you implement this list you will see a positive change in your sites and the effect over time can make a huge difference in sales.
Focus on your main message for your homepage and put it at the top. Then, go into detail by breaking your information into sections.
Minimize each section, so it's one or two small paragraphs of text. Give each section a single focus with a strong headline. Breaking your content into segments will make it easier to read and understand.
Instead of confusing or overwhelming visitors, you can keep them engaged with your content while avoiding clutter. When creating interior pages like your services focus on the problem you solve for your customers and present them in ways that are clear.
If you sell products, place the items where they will have the most impact on the user's eyes. Add all of the specific details as well, like type, color, style, anything that would help sell the product. Try and answer any questions about the products with a FAQ section, and back things up with reviews and data.
These basic web design tips will improve your site on desktop and mobile devices. When your article breathes on the page, it's easier to read. Otherwise, people might skim through your content, unsure of where to look next.
You can also use icons or photography to make your content make more of an impression. Consider adding interactive blocks using hover effects to encourage visitors to keep exploring with visual cues.
White space will improve your website functionality, too. Instead of feeling unsure about where to click, you can lead visitors down your page. Then, you can direct them straight toward your call-to-action (CTA), allowing you to turn that visitor into a lead. Getting more clicks can become addictive when you start focusing on goals as a conversion metric.
2. Make Sure It's Responsive
By 2021, mobile e-commerce will account for 54% of online sales. If your website isn't responsive, you could end up losing a lot of traffic and customers.
As you make these basic website layout changes, make sure your site is optimized for mobile devices.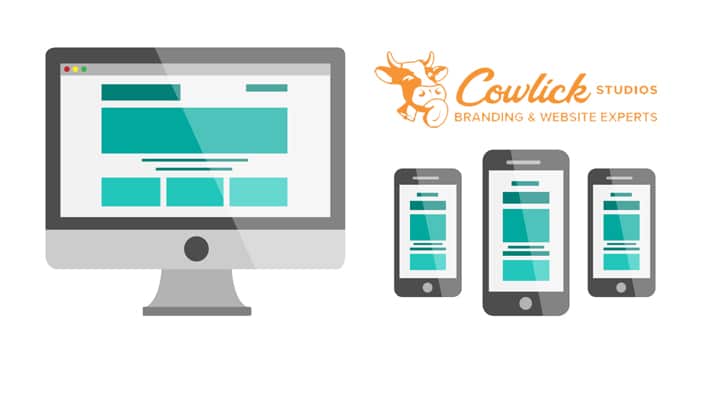 Mobile optimization is essential if you want to attract more leads. After all, Google now uses mobile-first indexing to determine page rankings. By achieving a higher ranking on Google, you can appear in front of more potential customers.
Try prioritizing mobile optimization as you design your site. Consider your website functionality for smaller devices. Instead of removing functionality for mobile devices, using a mobile-first mindset will help you save time.
You can use Google Analytics and heatmaps to determine where mobile users spend the majority of their time on a page. Compare the analytics between mobile and desktop devices. Then, explore ideas on how people scroll and tap throughout the page.
Ask yourself:
Which sections take up more space on mobile devices?
Which interactions don't work as well on mobile devices?
Are the fonts easy to read on smaller screens?
Do people stop scrolling halfway down the page on mobile devices?
Do visitors spend less time on certain parts of the page?
Where can you make improvements?
Studying analytics can help you determine the necessary solutions for your mobile layout and help guide a customer to the right action.
3. Set Up the CTA
What action do you want website visitors to complete on the page? For example, you might want visitors to call you, fill out a form, or shop on your site. Determine your goal before deciding on your CTA.
Then, you can develop a strategy that encourages people to complete that goal. Web designers help companies make the right decision when implementing new button colors, or a new element.
Give your visitors multiple opportunities to convert. For example, you might want to set up a CTA button within your site's navigation and the footer. Make sure this button stands out from the background.
Make sure your CTA button is clear and easy to find on mobile devices. Do visitors have to scroll below the fold to find it?
Using these website design basics can help you make improvements to increase conversions and give you the opportunity to make more sales.
4. Use Responsive Imagery
Using scalable vector graphics (SVGs) can also improve your responsive design. SVGs scale to suit the size of the screen. As a result, these images will look polished regardless of the device someone uses.
SVGs are also smaller in file size, which will help your site load faster. After all, no one wants to wait around for your images to load. These techniques will give you a speed advantage for loading times.
Different devices have different needs regarding image sizes. For example, a desktop page might need a 1200px wide image at full resolution. The mobile version of your site might only need an image that's 400px wide.
To improve website functionality and the user experience, you might need two versions of the same image for each device. Any quick word of advice it is always better to use custom photography vs stock photos that seem generic and don't speak to the Brand.
5. Standardize Clickable Areas
On mobile devices, your site visitors will click buttons and links using their fingers. This is less precise than using a mouse. It's vital to make interactive area sizes larger to accommodate the difference. Websites that bunch too many items on a screen on mobile will suffer from a higher bounce rate.
This basic website layout tip will help improve the user experience. Otherwise, your visitors might struggle to click and explore your website pages.
Try optimizing your buttons, form inputs, inline links, navigation links, and make a connection with your readers with good copy.
These changes will ensure there are fewer errors on your site, minimizing frustration. At the same time, you're improving engagement and encouraging visitors to explore. Providing great experiences is always part of our quality website layouts.
6. Balance the Typography
Typography can help you develop a strong brand identity. Too many websites lack font types that are pleasing to the eye.
Make sure your fonts are easy to read on every device. If people can't read your value proposition, they won't choose your business. Remember too that not everyone has perfect sight. If someone can read your blogs or articles because your font size is too small, you need to rethink accessibility.
Balance your headings and body font sizes on each device. Hierarchy and weight can help keep your content organized and improve readability.
7. Make Navigating Easy
To encourage people to explore your site and menu, make sure it's easy to navigate.
Organize your pages in an easy-to-understand structure. What content do your visitors need first and foremost? Make these pages easy-to-find without clicking around.
Don't forget to use page hierarchy and responsive design for your navigation bar.
The easier it is to navigate, the more likely people will explore your site.
Following this checklist for all basic website layout tips will help ensure your success!
Use These 7 Website Layout Tips for Better Functionality
The best design is in the details! With these seven basic website layout tips, you can organize your site and improve overall functionality. Make sure to keep your users in mind to improve user experience, too!
Need help improving your web design layout? Book a time to talk with our experts today!