5 Things Your Website is Missing.
Your website is the centre of your digital brand. It is crucial to get it right, not only to improve the trustworthiness of your business but also to grow leads and increase sales. How you present information on your website is what sets you apart from you competitors. Keep your message clear and simple, focused on your customer's problems and your business will have success on line.
These 5 things your website is missing will help you discover the things to the changes to make on your website.
Your website should have a clear message.
What does your business do?
What is the problem you solve for people?
Your Message Is Important.
Of the 5 things, your website is missing this may be the hardest to implement but is the most important. Your brand message needs to be clearly defined. Your message needs to be about what you do and how it affects the customer's life. It should not be about you or your business, because frankly, people do not care about you, they just want to know what's in it for them. This message is important for all of your marketing materials but we will focus on your website.
We all want to be really creative with our taglines but the simpler your message the better. For example: "We build beautiful websites, with no hassle." says exactly what we do. We can do a lot more for you but we are focusing on websites. Not just websites but beautiful websites with custom designs.
Your message also has to connect emotionally with your site visitors. You need to talk about the problem you solve for your customer. By doing this they will realize they have a problem and that you are the business that can provide a solution. Again keep this simple. The "no-hassle" part of our message is to let you know that we are not like DIY web builders that tend to take up a lot of your time and effort and cause frustration. This statement is also setting us apart from our competitors, letting you know that you will get service that treats you the way you want to be treated.
If your message is simple, easy to understand and provides a solution to your visitors problem, it will resonate with visitors causing them to understand and value your product and service.
Your website should have a call to action.
You would never get a date if you didn't ask, similarly you will not get sales unless you ask.
A Strong Call to Action
If your message is clear and targeted to the problem of your visitor, then you need to ask for the sale. Your website visitors need a clear and simple way to contact you or buy your product. These calls to action need to be more aggressive than we might anticipate. "Learn More" is not aggressive; what am I learning more about? Where will I go if I click it? and How do I actually buy this thing or get a quote?
Calls to action need to be decisive and clear.
Buy Now!
Place an Order
Get a Quote
Schedule an Appointment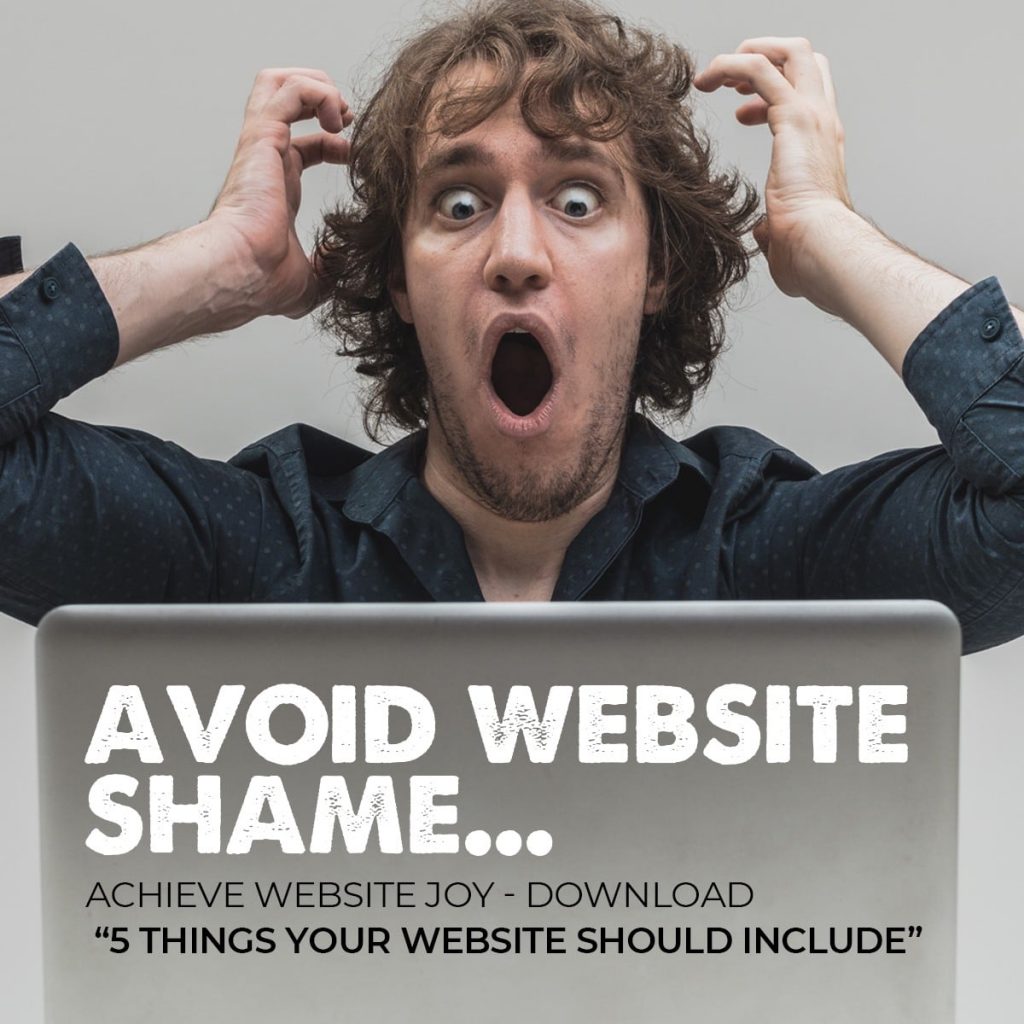 Your website should have strong visuals demonstrating success with your product or service.
A picture is worth a thousand words…really!
Choose the right images
Your website is not about you. It is about your customers and the problem you solve for them. For this reason, it is important to show what happy customers look like who have used your product or service. Your image choices need to reflect what using your product looks like and how it could also change your website visitors' life also.
Use images on your site to tell visitors what will happen if they work with you or use your product.
Your website should have a visual path to success.
What are the stepping stones to working with you?
Simple steps to work with you.
Your customers want it easy. Working with your company should be easy. Let's face it we naturally take the easy way – cut across the lawn instead of using the sidewalk, put an item down after using it instead of cleaning it up right away; this tends to be human nature. And the buying process is the same. In 10 easy steps, you can have a new website from Cowlick Studios, but we can break that down into 3 steps for any website visitor.
Contact us.
We work through our web design process with you.
Your website is launched and enjoyed by all of your visitors.
The path to success needs to say – "It's easy to work with us or to buy from us."
Your business should have a similar path that makes it simple for customers to work with you and know what they are getting.
Your website should have a strong brand.
Nothing matters if your message and branding are not clear.
Your brand is your reputation.
Your brand is more than a logo, it is how your customers and potential customers perceive you and your business. This can be a good or bad perception. And remember you have a brand whether you are intentional about it or not.
Your brand is everything about your business and includes:
brand logo & identity
brand name
a simple clear message
public statements made by owners, CEO, employees
receptionist's tone of voice
information in communications
tone of communications
performance of product or service
quality of customer service
A brand created from core values can affect your business in profound ways both online and with your brick and mortar store. Remember your brand is more than a logo.
If you address these 5 things your website is missing, we have seen from our experience, an increase in sales and leads. Make your site text as simple and direct as possible, ask for the sale with a clear call to action, have a path to success, great photos, and a strong consistent brand. Make the changes and see for yourself.